Proposing to my girlfriend in Ortigia, Sicily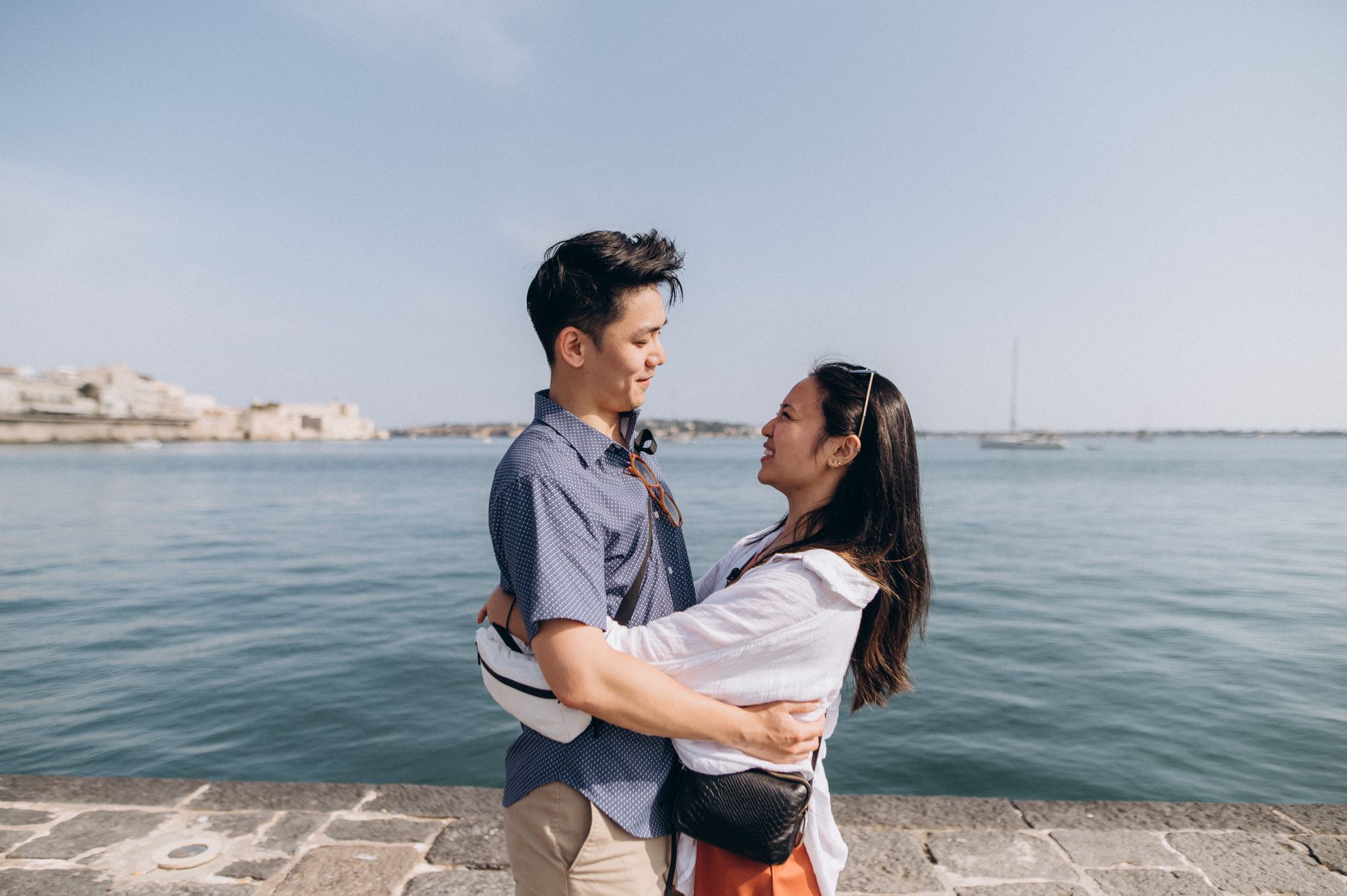 Last month I proposed to Nicole in a small town called Ortigia in Sicily, Italy.
She said yes; my best friend of nearly eight years is now my fiancé. Nicole was completely surprised. She couldn't believe that I planned everything under her nose. I'm happy everything worked out, and I'm even happier I got the location right. Ortigia's pace and small island charm, views by the water, food, culture and architecture... it was everything I hoped for!
I can't thank my best buddies enough. Man, Alex and his wife Teresa helped me plan my surprise engagement and it went perfectly. Nicole is generally intuitive about things around her, so I had to be extra careful the months leading up to the trip, especially with buying the diamond ring.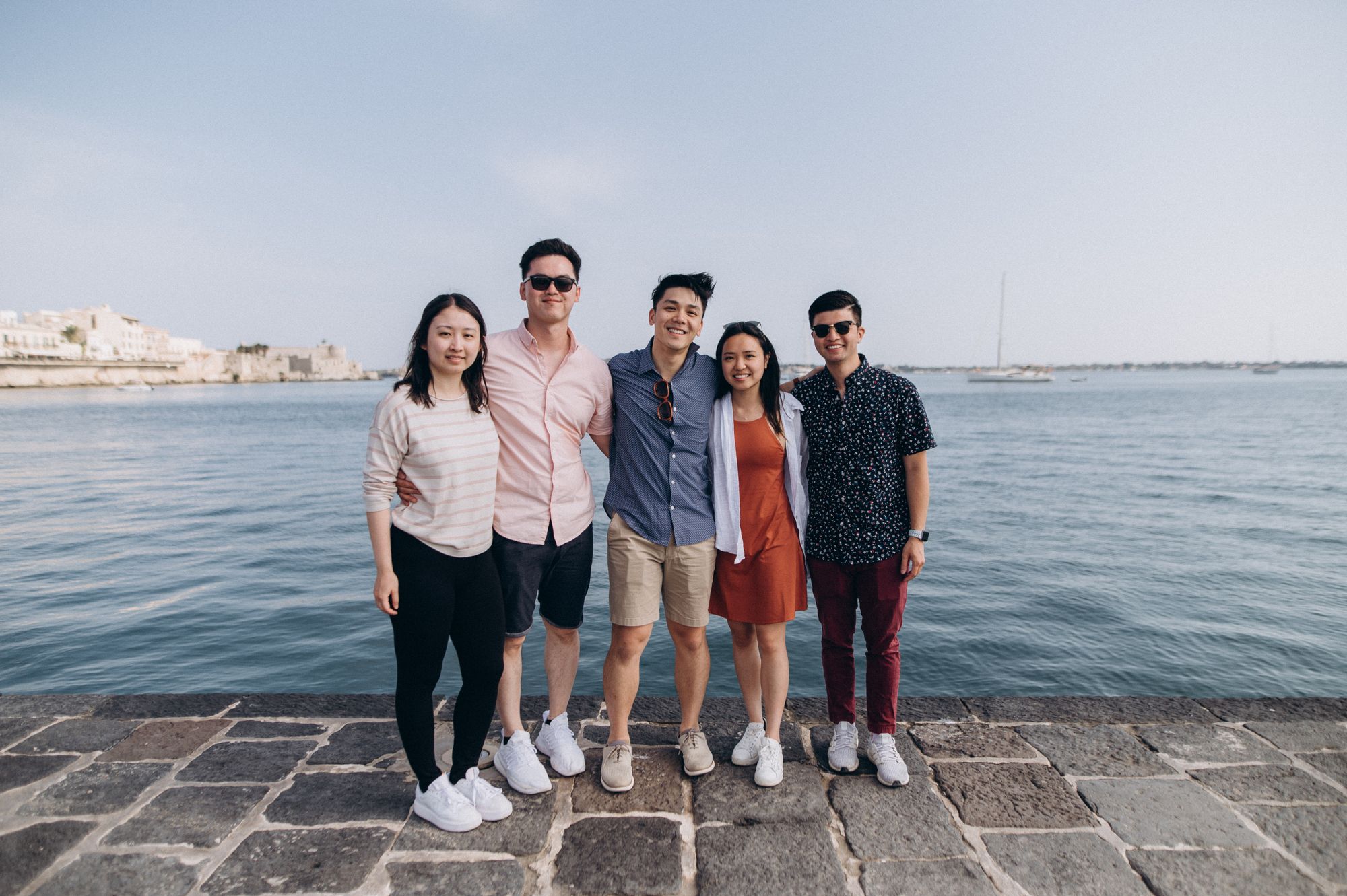 Rome
Before heading to Sicily, we stayed in Rome for five days. We visited all the popular landmarks (Vatican City, Trevi Fountain, Spanish Steps) and explored the city from morning to evening.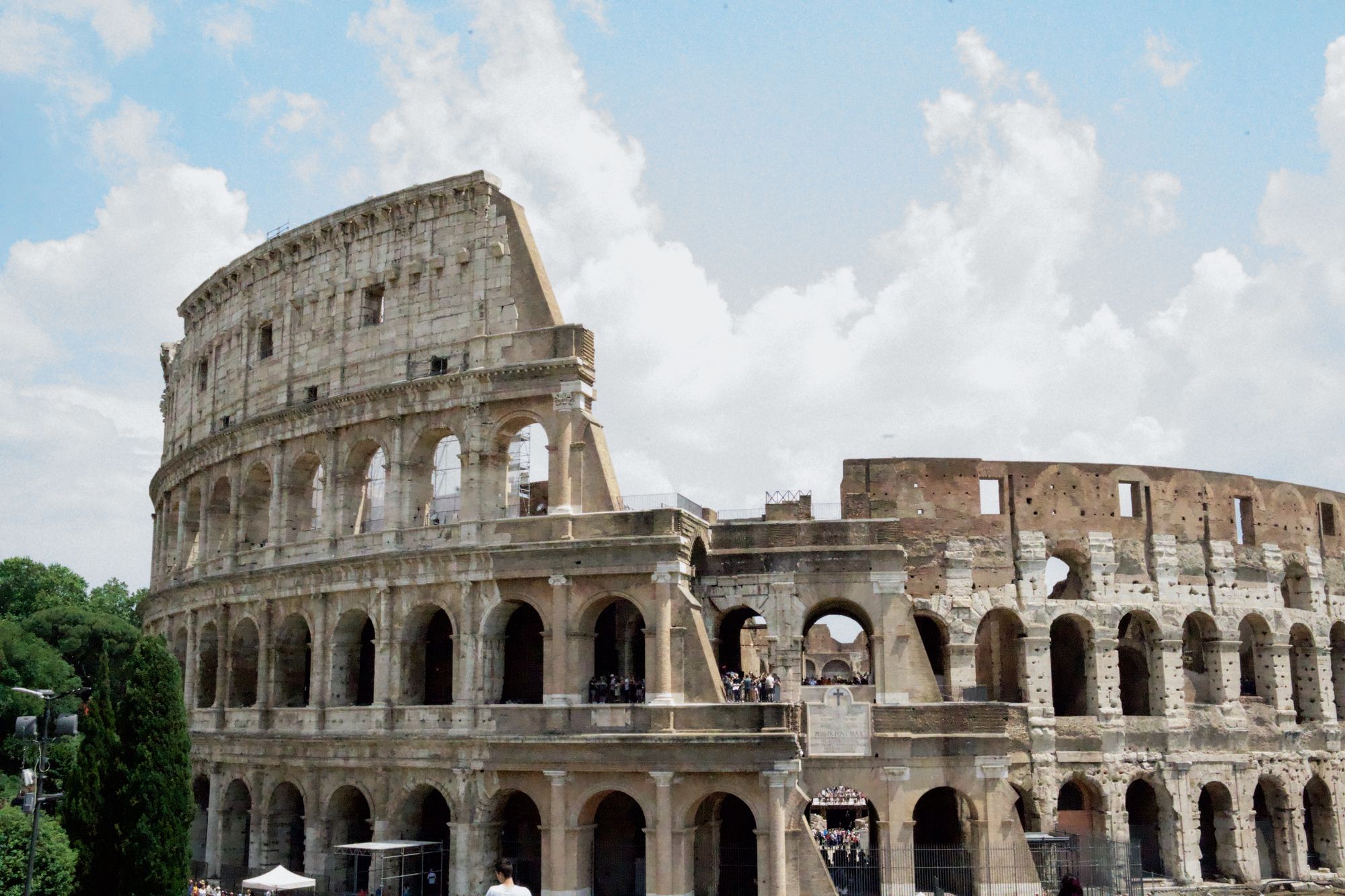 It's no surprise my step count spiked up in May relative to prior months: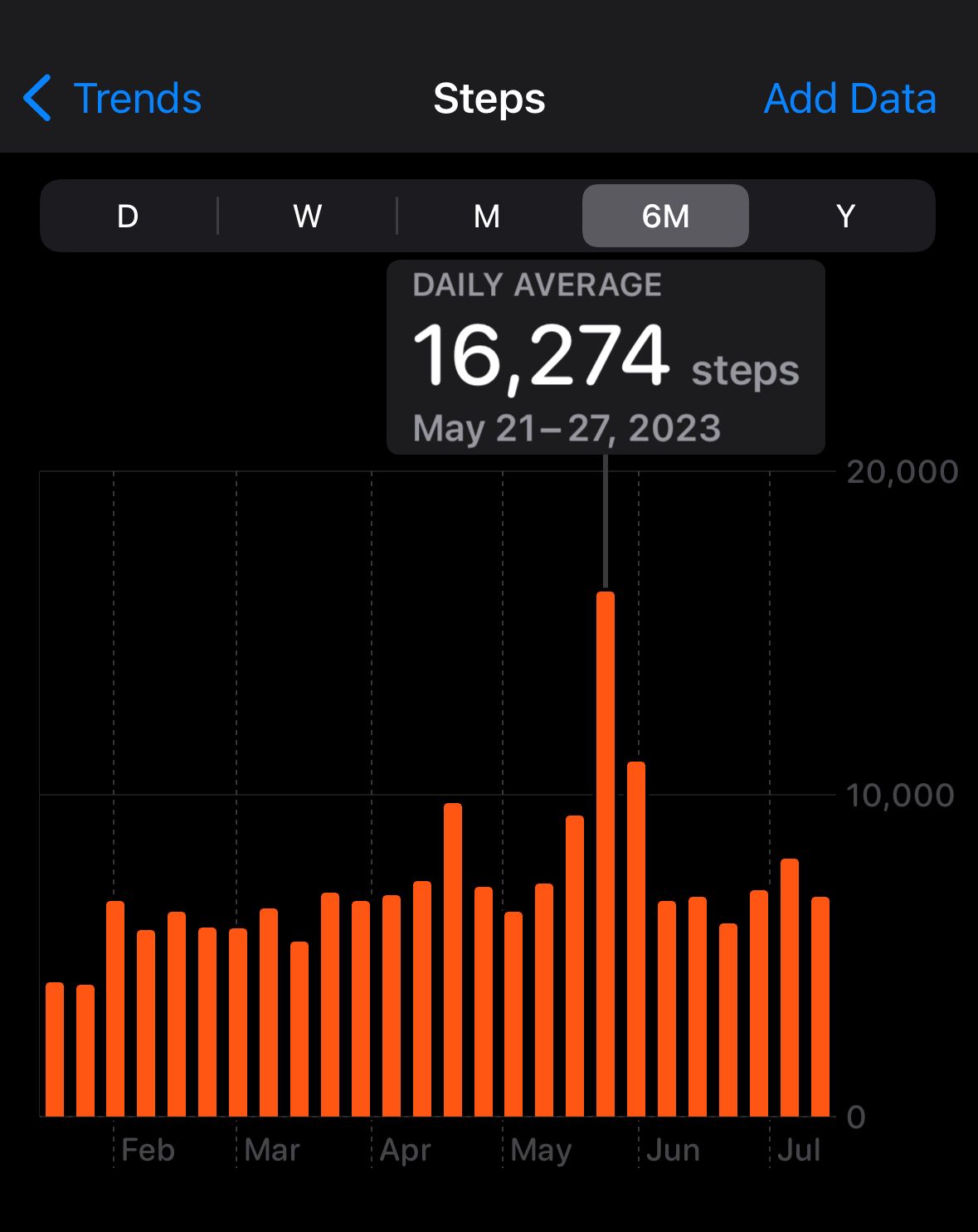 Sicily
By the time we arrived in Sicily, all we wanted to do was lie down 😆. Yet, I think the fatigue actually worked in my favor for the surprise proposal. In Nicole's mind, she might have thought, 'We've been traveling for 6 days, I'm exhausted, he's not going to propose on this trip.' (I have yet to confirm this with her, though.)
Planning the surprise
When our group mapped out the trip itinerary, I couldn't just write "propose to Nicole" in Google Docs. The proposal day, May 26th, needed a vague agenda. I needed a specific time and place because I was also hired a photographer and planner, Anna and Ksenia. (They were fantastic).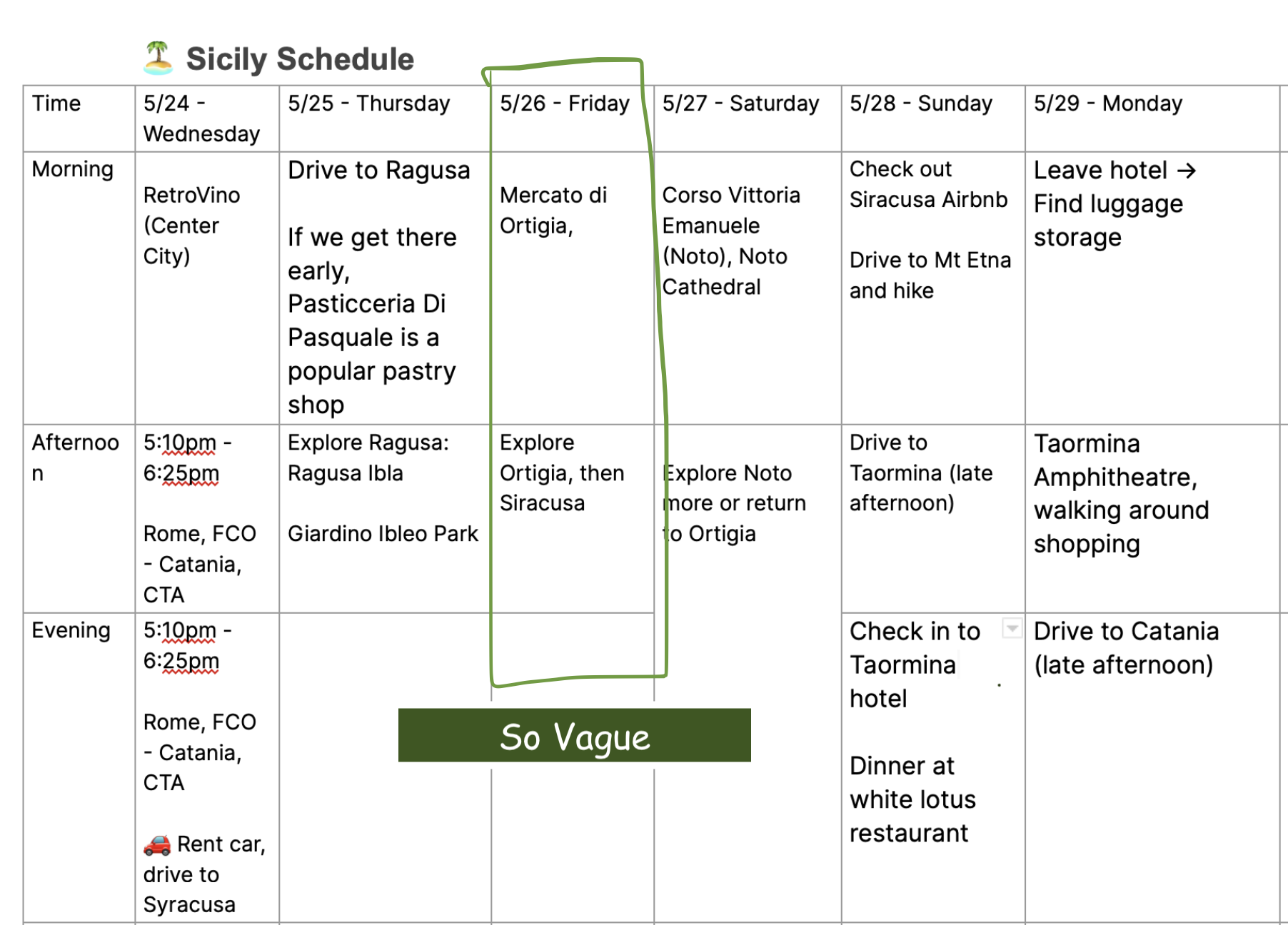 Here was the May 26th game plan in my head:
Morning: Nonchalantly be the last to wake up. Pretend like it's just another day on vacation. This was easy since the only morning agenda was to visit a nearby street market in Ortigia, just a three minute walk from us.*
Afternoon: Have lunch at Al Mazari, visit landmarks in Ortigia, and shop around until 4:30-5pm. At that point, I'd need to figure out a reason for us to guide us back towards Alfeo Promenade, a popular waterfront to view the sunset. Ortigia is tiny, by the way— you can circle the entire island in less than 30 minutes.
5:00pm: Pop the question.
Evening: Celebration dinner at Cortile Spirito (I highly recommended)
* That morning, Nicole initially put on a beachy graphic t-shirt that said something-something- "vacation time". In my best 'just-woke-up-don't-really-care' morning voice, I suggested wearing something a little nicer since the day's lunch spot was Michelin rated. It worked.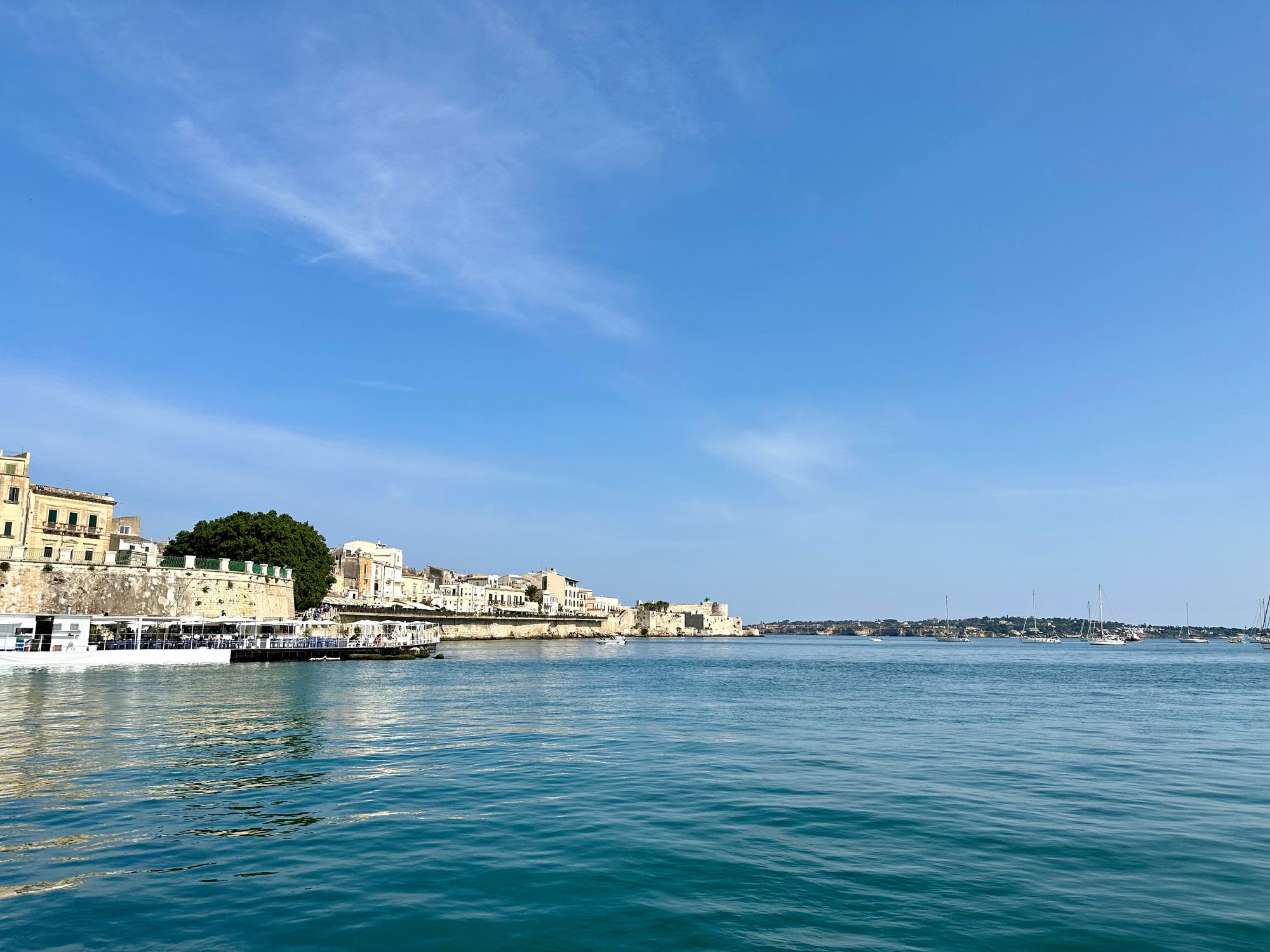 Finding a reason to walk back to Alfeo promenade was challenging. We had already walked by the waterfront that morning, but I needed a reason to walk towards it again. Right before the promenade is a pier. Nicole hates public attention, so my planner suggested this pier for the proposal— still a beautiful view by the water, and much less foot traffic than the promenade. Sold.
Separating from the group
I wanted Nicole to have space when I proposed, away from our group. It was a tricky problem. It's very unnatural to point out a picturesque pier without having all of us check it out as a group. Solution: stop by the pier twice— first as a group, then again with just Nicole.
On Google maps I found aquarium next to the pier and suggested we check it out. I'm pretty sure it was just a fish store based on the photos, but I had all the reason to find out.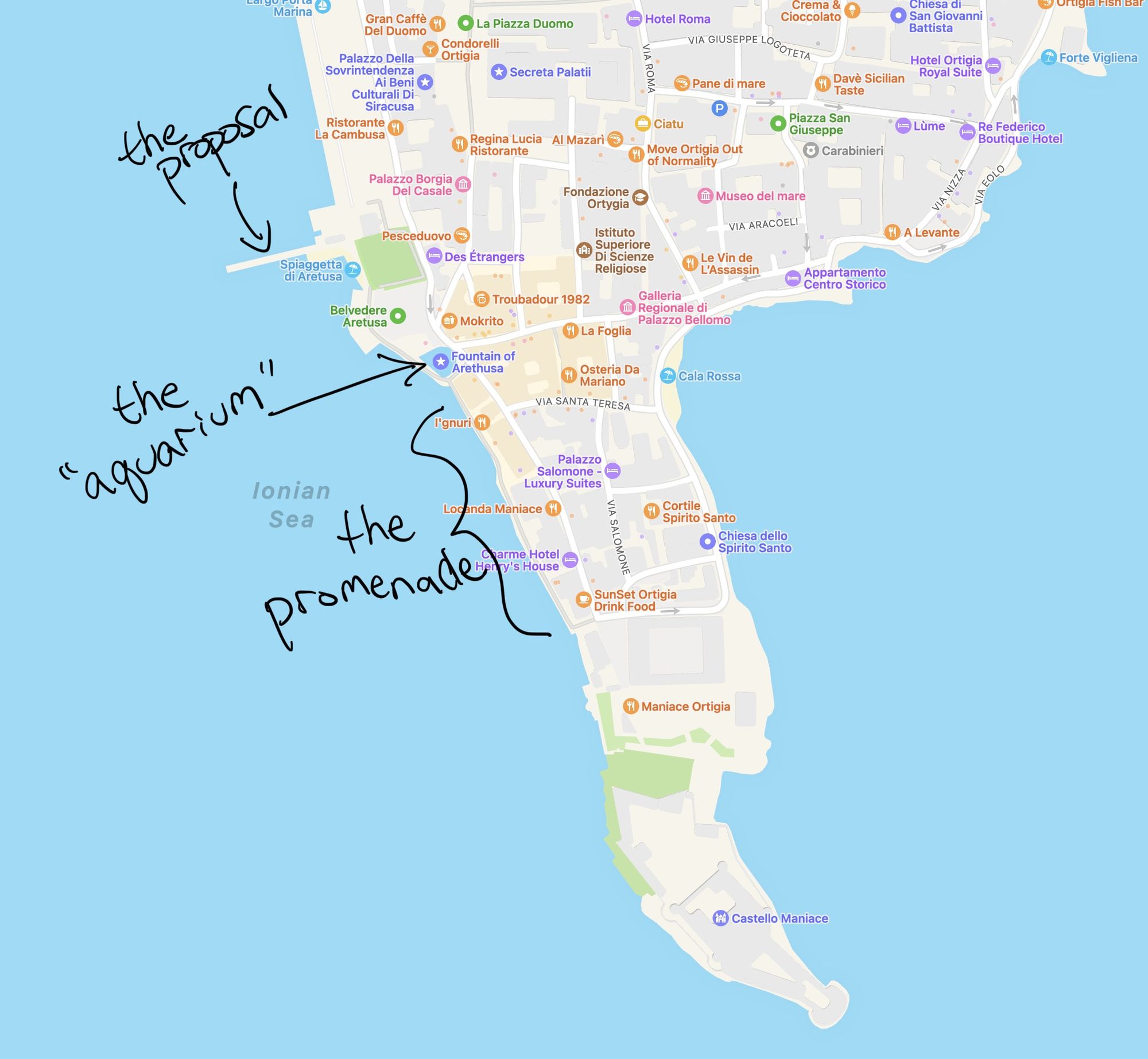 I still had to devise how to get Nicole back to the pier with me, alone. Of course I'd have a techie idea: I would disconnect my 'Find-My' enabled wallet during the first pier-stop. The iPhone tracks when the wallet last detaches from it; that way, I can pretend I lost my wallet and have a reason to run back to the pier. I've lost many things that Nicole eventually helped me find, so I was confident she'd tag along to help me find this lost wallet.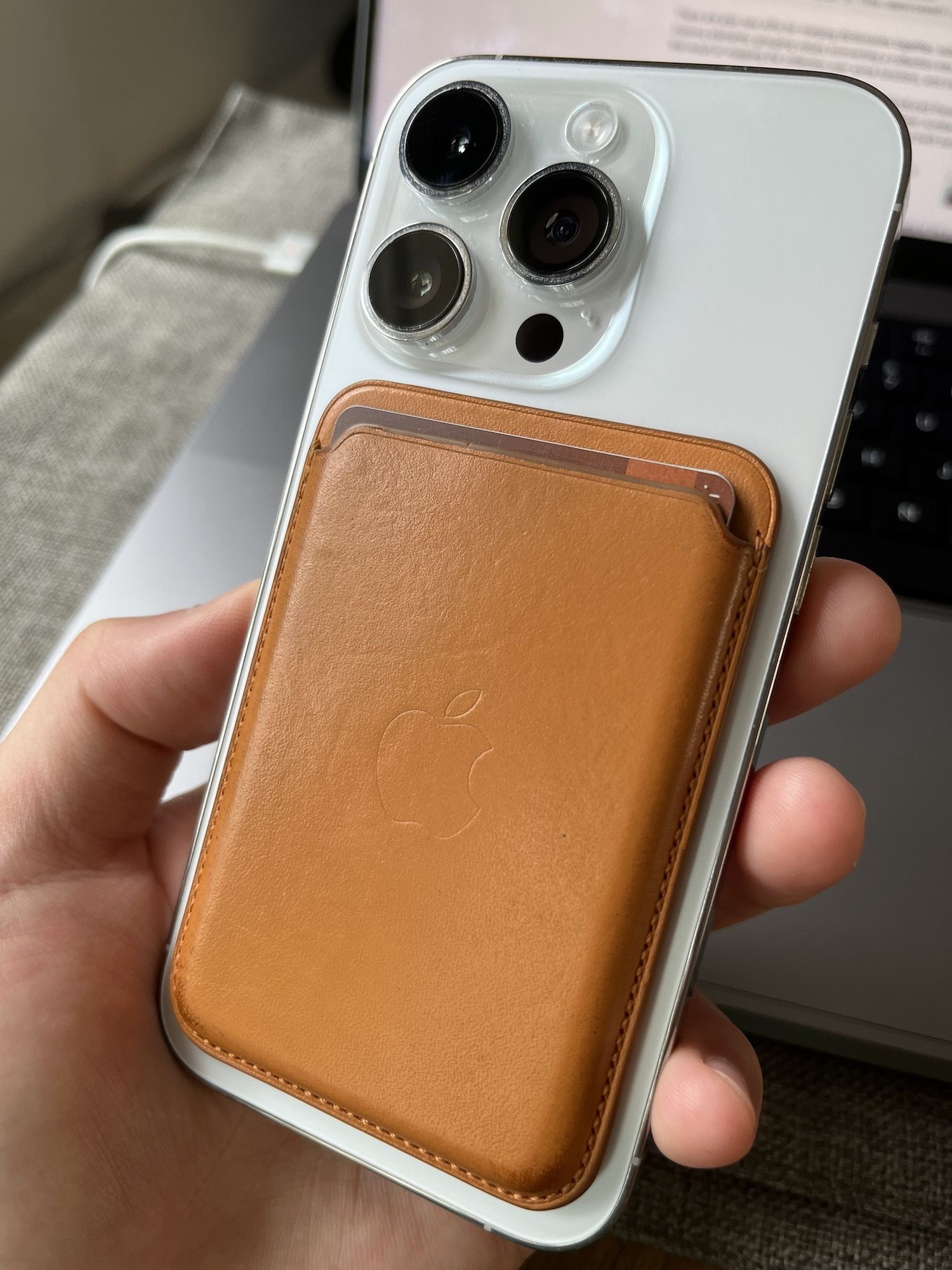 I instructed my photographer Anna that our group would make a first pass at the pier for photos. Afterwards I'd come back shortly with just Nicole and that would be the moment. Anna would pose as a pedestrian taking photos of the water.
So we make the first pass towards the pier. People like taking photos close to water; I didn't have to say more than "Oh look there's a pier" for us to start walking towards it.

We take group photos and start walking away from the pier. I intentionally disconnect my Find-My enabled iPhone wallet at the pier. At the aquarium,
As we walked away from the pier the first time, I could see Alex heads down on his phone messaging. Alex was secretly sending status updates to Anna. I walk ahead to Alex and say, "I don't think we need to go to the aquarium, tell Anna it's going to happen soon."
I felt the moment happening and realized had enough privacy if the group stayed at the base of the pier. Screw the aquarium.
"Wait.... hmmm... where's my wallet? Uh... oh shoot ... hold on.... I think I dropped my wallet! 😨"
I open the Find-My app and show Nicole that my wallet disconnected somewhere around us, and I quickly tell her to come with me back to the pier. We scurry back and the rest is history!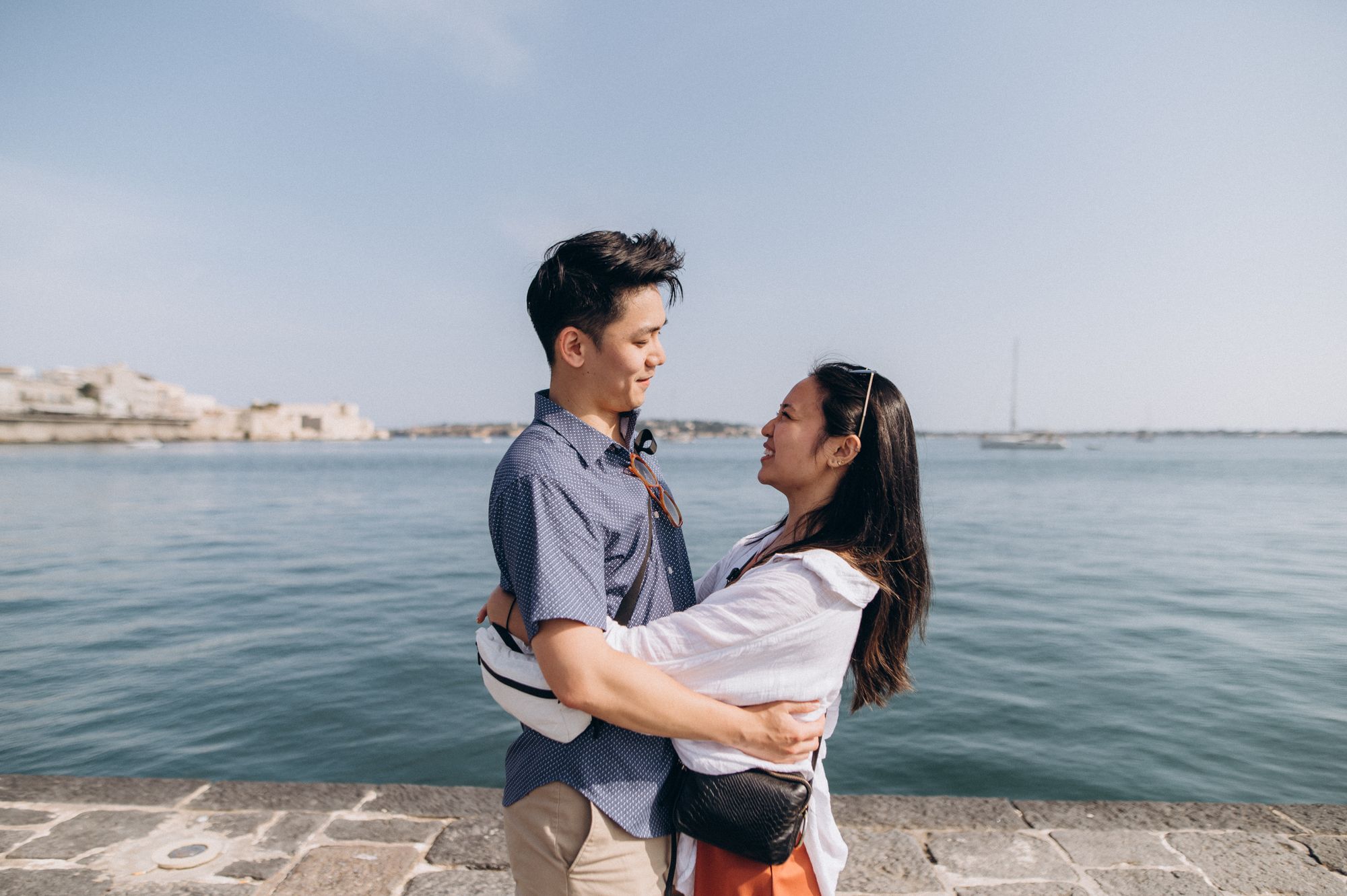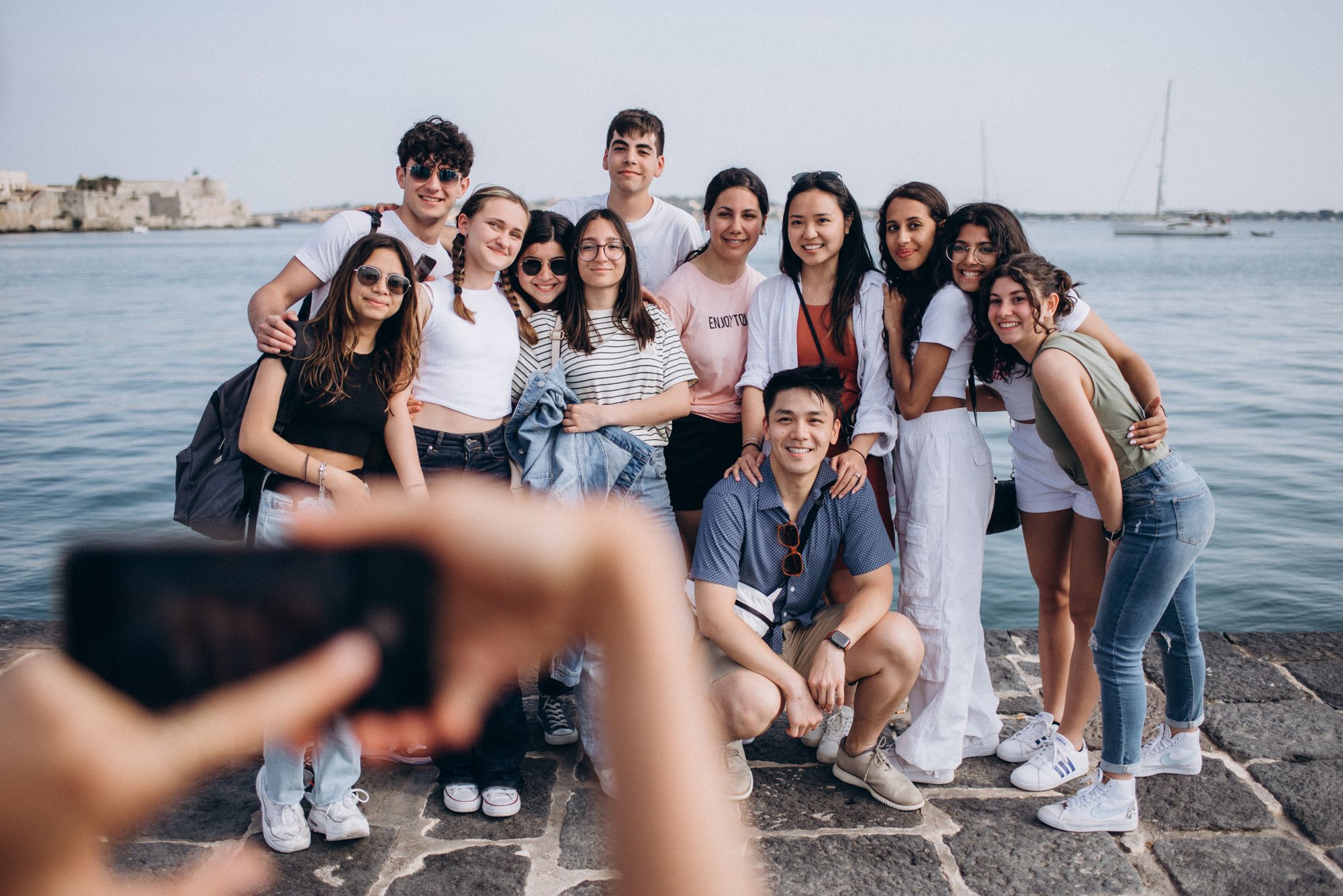 All in all, the trip was a success. I needed about a week to recover after arriving back in New York; all the walking, wine and suboptimal sleep in Italy caught up to me. But who cares, we took home some unforgettable stories and I want to retell them again and again.