Coaching Runners: A Guide for Personal Trainers [Part 1/2]
In this post, I explore the three main formats of paid run coaching, and the benefits of each. In Part 2, I'll share tips on what trainers can do to coach runners.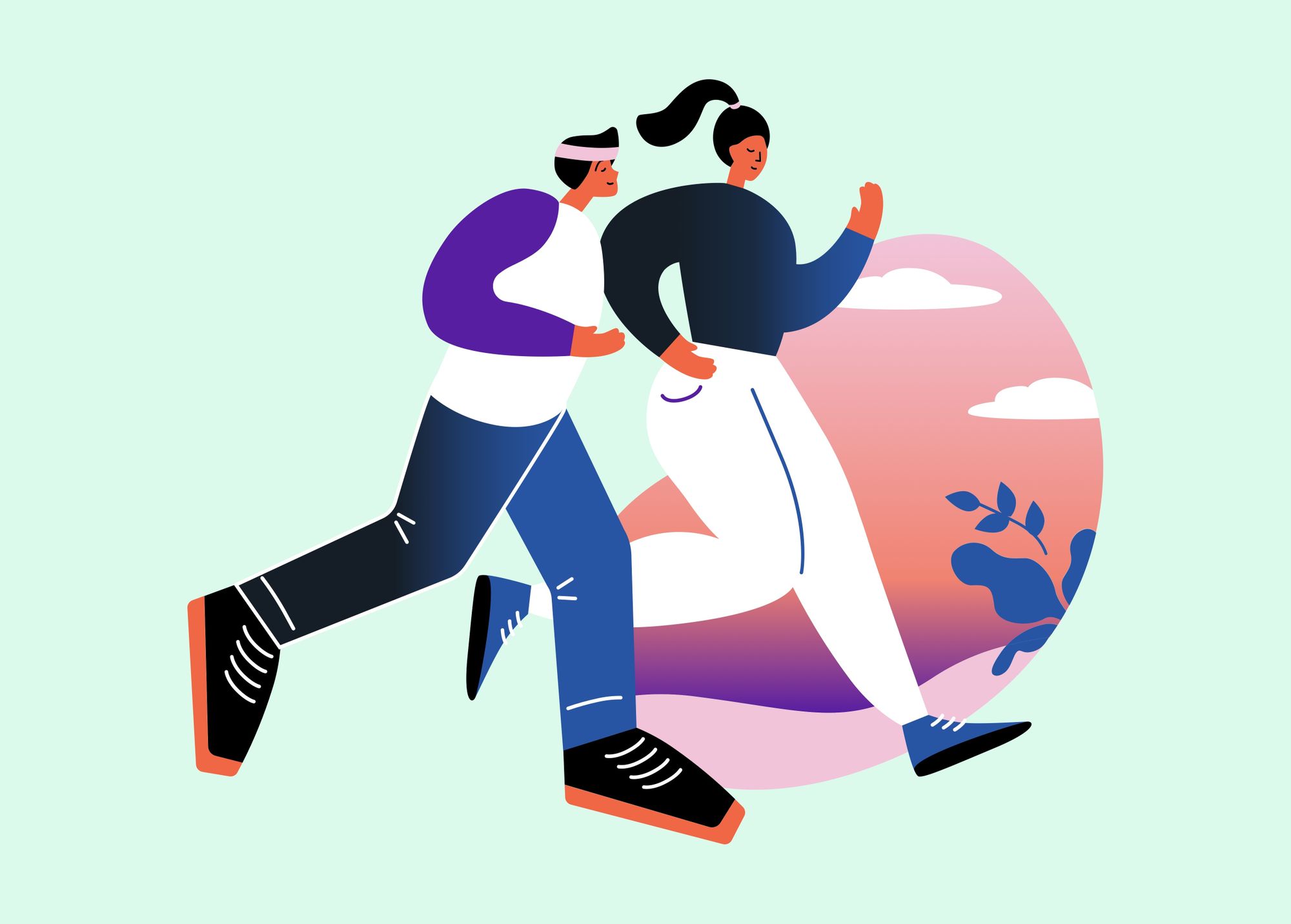 It is officially Fall— the season runners have been waiting for.
Well— things are different this year.
Last year the NYC Marathon tallied 53,627 participants, amounting to the largest marathon ever. This year, all races are cancelled; big marathons like NYC, Boston and Chicago repurposed their events as free and virtual.
Of course, I wanted to cover this because these virtual marathons are perfect intersections of fitness meeting technology.
I wanted to figure out:
Do virtual marathons bring in more new runners interested in private run coaching?
My hypothesis was it wouldn't.
Sure, more people might look to step out and run after working from home all day— but I figured this pandemic would surely prevent folks from considering private coaching.
Before I get into that, I want to share some SEO stats and opportunities coaches may find helpful for growing an audience of runners.
Running Trends
People often search for "marathon training" and "half marathon training" in January. For "marathon training plan", Ahrefs.com reported 30k searches this January, ~28k searches last January 2019.
"marathon training plan" - 30k monthly searches
"half marathon training plan" - 16k monthly searches
This data is helpful to reinforce the need to run amid a pandemic, but this January trend is obvious.
New Year's Resolutions bring the best efforts out of everyone, even if it's just a month. 😂
January spikes apply to many other self-improvement products and services. Specifically for fitness, searches for "gyms near me" do not disappoint on Januaries.
It'll be interesting to see how much consumer interests shift from gym memberships to digital subscriptions this New Year. With many gyms still closed or limited across the world, Peloton subscriptions and Apple Fitness+ will be the new fitness gifts and resolution goals for people this holiday season.
How run coaching works
I reached out to several runners and coaches for their insights on running during the pandemic. And as someone distant from any running communities, I also did some research and sifted several run forums like Reddit. Here are the most common paid coaching models I found:
Private in-person coaching: direct feedback & workout programming
Feedback coaching (remote): remote feedback & workout programming
Paid running groups and teams
1/3. Private in-person run coaching
1-on-1 in-person run coaching is uncommon overall. This point was the most interesting to me, because for personal trainers, this is the desired and default coaching format.
New runners don't often look for private coaching services when starting out. In fact, runners in general don't sign up for in-person private coaching.
With strength training, gyms would up-sell personal training packages the moment you sign up— a free training session is usually bundled in a new membership to keep fresh leads coming in for trainers.
In the runners' ecosystem, though, running is free by default and a change-of-cloths away from a workout around the block. (Strength training can be free too— but in-house equipment and space justified the premium for brick-and-mortar gyms.)
However, in 'the future of fitness studios'— I explained how the power has shifted to at-home fitness as workout equipment sells out across the US:
For fitness professionals, this is great news. The clear upside to this situation is that consumers have accepted fitness in physical isolation. Pre-COVID-19, I suspect many people justified gym memberships by the simple fact a gym possessed and maintained the physical equipment they'd never think to put in their own home. Short of a squat rack and indoor basketball court, it turns out a set of home dumbbells, indoor bike and a yoga mat can go a long way.
Unfortunately, the power dynamics that gyms used to possess in personal training, never existed with runners. A runner never paid to find space— it's all around us on trails, parks and blocks in our neighborhood. The bare essentials for runners are a path to run, shoes, and maybe a GPS-enabled watch or app to track activity.
Because running space is not a cost, and running is not fixed to a location like a squat-rack or free-weight gym section, 1-on-1 in-person coaching is generally inconvenient and less popular than group runs or remote coaching.
Advanced Athletes
There is a clear demographic that needs in-person run coaching, and that's at the advanced and professional level.
Reaching a new personal-record (PR), time-qualifying for a big marathon like Boston/NYC— that's when runners seek direct coaching. This is similar to college athletes working with private trainers in the offseason, or football players preparing for the NFL draft.
It's also likely that advanced runners join a team with other competitive runners and coaches on hand.
Exceptions
While in-person run coaching might be the less likely option for new runners, it does exist.
After sifting running subreddits like r/AdvancedRunning, the general feeling towards in-person run coaching is that it's not worth it unless you're advanced. The advice is typically:
find a free or low-cost running group
find a free training plan and just start running
I think this is good advice for runners on Reddit. Because users on Reddit typically ask and answer questions like one would with a friend; the advice is candid, strongly held, and against paying money unless absolutely necessary.
Some Reddit responses to "how many of you have a running coach?"
At your level you would benefit most from just getting out the door and running as much as you can. Only once your performance starts plateauing could you benefit from some structure, but even then chances are a mileage increase would get you improving again. (If you are running under 40 miles a week)
To be frank you're no where near close to a level that would warrant paying for a coach. I don't necessarily mean you aren't fast enough (although it is a factor) but I do think you haven't been training long enough. There are so many resources that you haven't even scratched the surface of yet. Buy some books, join a run club, do some research online, and just run more before hiring someone.
In reality, though, there will always be people who pay for premium services. I reached out to a NYC-based run coach, and his primary in-person clientele are runners just starting out, or looking to improve their running form.
Habit building is hard— and services that offer accountability, expertise and guidance will still be around, despite all things free on the internet.
---
---
2/3. Feedback coaching (Private remote coaching)
Because live virtual Zoom classes are so prevalent now, it's important to distinguish private live remote coaching from private "feedback" coaching.
Feedback coaching is nothing new; it's what coaching services look like in any other context besides fitness. Therapy, wellness coaching and business mentoring all operate through scheduled calls and checkins.
In the running community, this is the most common form of run coaching for non-elite runners.
Coaches provide value in two ways:
weekly or monthly check ins
workout programming
Since running is active and on the go, a live call over Zoom won't work. Remote check-ins are primarily how a runner and coach communicate.
Advantages of feedback coaching vs. in-person coaching
Feedback coaching is superior in several ways. The obvious point is that a coach can work remotely; checking in with 3-4 clients is far less taxing than three hour-long personal training sessions.
The pay structure is different too. Remote feedback coaching is often billed as a monthly subscription, in which runners can schedule video check-ins 2-4 times per month, along with direct messaging access via text or email. Compare this to a live personal training session— trainers are paid per session, and therefore, their pay is directly proportional to the number of coached sessions.
Because a coach's time and attention is limited, remote run coaching and live personal training are fundamentally different.
Benefits of remote coaching:
Net pay per time spent coaching is higher
More flexible schedule
Bigger clientele pool to pull testimonials from
Earn all revenue (no split with gyms)
After asking several run coaches and further Reddit spelunking, I gathered that the monthly rate for feedback coaching fall between $100-$200. This range may look insignificant when compared to a private session at Equinox for $140, but consider the math.
For starters, gyms take 30-70% of a trainer's share— but you knew that. Let's compare two possible scenarios and break down earnings by time.
Feedback run coaching for $200/month:
2 monthly video check-ins - 1 hour (2 x 30 minutes)
anytime texts/emails during business hours - 1 hour (4 x 15 minutes)
custom workout program with modifications - 2 hours
Total : $200 for 4 hours work $50/hour
2. Live personal training sessions for $100 ($800/month):
8 private coaching sessions - 8 hours (2x/week)
custom workout program with modifications - 2 hours
Total : $800 for 10 hours work -> $80/hour
Adjusted for gym revenue share: $40/hour (50% cut)
This is obviously a rudimentary comparison; many independent trainers don't pay a 50% cut, and I might be underestimating the effort to design run programs.
The clear downside to feedback coaching is that it only succeeds with a healthy supply of clients, say over 20. A larger clientele capacity, though, propels social media and client testimonials.
If we assume remote running clients churn more than personal training clients (seasonal change or only training for an upcoming race), run coaches will have more new clients than personal trainers have over time. (This could be a bad thing too— new clients require additional upfront work.)
More new clients means more possible testimonials a coach can ask clients to post on Google Business, Instagram Stories, and Facebook Page reviews. As far as website algorithms can tell— a positive review from a 2-month long client is the same as a review from a 2-year long client.
---
3/3. Paid running groups and teams
Lastly, I mentioned earlier that advanced runners often benefit from joining a running club or team. The coaches are often runners themselves, and running in groups add live accountability, support and competitive spirit. Most running groups are free, but there are paid ones too, like the Dashing Whippets in NYC. Paid run clubs typically charge less than $50 per year, which cover costs like T-shirts, indoor track fees and occasional group outings.
Of all options, I hypothesized that running groups offered the least opportunity for up-selling personal training services. After speaking with a friend in touch with the Dashing Whippets, there are in fact several runners who pay for private coaching on top of running with the Whippets group.
In general though, I still suspect runners in less-advanced groups to find the coaching and workouts provided by their yearly membership as sufficient enough.
Part 2
In my next post, I'll dive into some SEO analytics for running demand post COVID-19 lockdowns, and some opportunities that personal trainers should look into if they plan on working with runners.